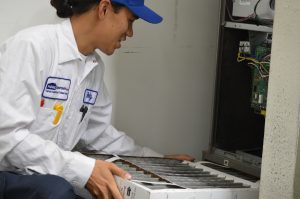 3 Checks To Make Before Calling An Anaheim AC Repair Service
Coming home to a hot house in Anaheim after a day of work, or waking up to find the house is already unbearable is always a negative experience. While it is possible that any AC system can have a component failure, it may be a simple issue that can be fixed without the need to call for AC repair.
Check for Power
Air conditioning systems required their breaker (circuit breaker) on the electrical panel. If the system has been running without any strange noises or constant cycling on and off, it may simply be a breaker problem.
Locate the main electrical panel and check to see if any breakers have been tripped. Turn the breaker on and see if the air conditioner starts. If it does not or if the breaker trips again, immediately call your AC repair service. Do not try turning the breaker back on.
Check the Thermostat
It is not uncommon for a faulty thermostat to the source of a problem with an AC unit. Check to make sure the thermostat is set to the correct temperature and has not been accidentally moved. This is a common issue with both the older manual adjustments on home thermostats as well as with "smart" thermostats that can be controlled by apps from a phone.
Check the Air Filter
If the air conditioner is running, but it is little or no cool air is circulating, check to make sure the filter is clean. If there is low airflow to the system, issues such as ice on the evaporator coil can be the cause of the problem.
In most cases, even if you replace the filter, it is still a good idea to have an AC repair service take a look at the system. Top companies like Home Comfort USA can schedule routine maintenance to help address possible issues with the system before they become a problem.
At Home Comfort USA we can provide full AC repair on an makes and models of systems. To schedule an appointment online, see us at www.homecomfortusa.com